All our products are designed by our own R&D department. The products are tested in our laboratory to check if they meet the requirements of the customer (e.g. thickness, weight, strength, color).
We have state of the art equipment to perform accelerated tests about discoloring and aging (UV, temperature, humidity). Of course we also test our products in practice to determine the durability for outdoor use.
Virtually every color is possible. We only need a small sample or a color reference (e.g. RAL, PMS) so that we can develop your color. We can also make fluorescent or phosphorescent (glow in the dark) colors, and gold, bronze, silver and metallic. In addition it is possible to give the product a print.
All our coatings are made of the plastics PVC and/or PU. We mix our own coatings. We coat in two ways: transfer coating and direct coating. Depending on the type of product we choose the best suited production process.
With transfer coating we apply the coating on a transfer paper. This transfer paper carries the coating through the production process and at the end it is separated from the coating. The transfer paper does not only carry the coating through the process, but it also gives the structure and the gloss to the product. It is also possible to use a plain transfer paper and emboss the product afterwards with a structure design. For big projects it is even possible to choose your own design. The advantage of transfer paper is that it makes it possible to produce foils and foams, but also artificial leather with open or stretchy jerseys. With this process it is possible to laminate a fabric on the coating at the end of the process.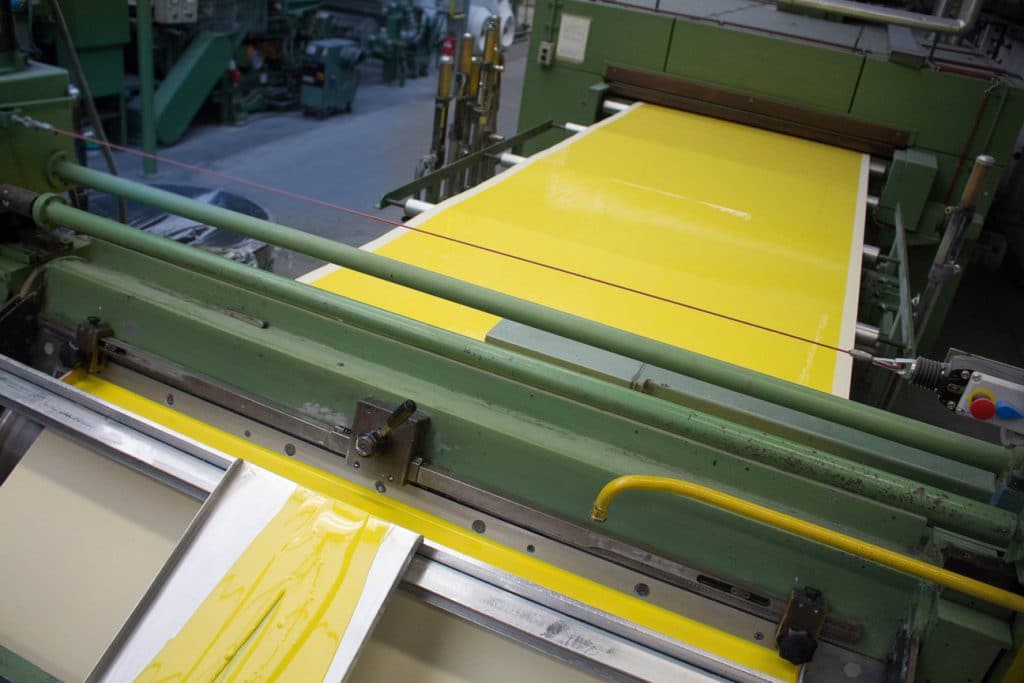 With direct coating we apply the coating directly on a textile carrier. This is only possible on woven fabrics or on a non-woven. The web of the carrier needs to be close enough so the coating does not leak through the carrier. Typical products that are made with this process are tarpaulins used for sports mats, inflatables, mattresses and tents.